---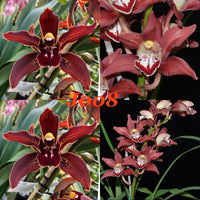 Hybrid by Scott Barrie, Barrita Orchids. This plant is a single growth (approximately 12 months old) in a 50mm pot.
Description of the expectation for this hybrid. 
'Velvet Chocolate' was the standout from our sibling cross of Death Wish. It has a great flower count and dramatic spidery flowers. In combination with Volcano 'Gypsy Rose', we are looking to build on multi-spiking habit and intensify the red colouring with red lip. Expect novelty-shaped reds and browns with spots. Compact foliage from this diploid hybrid
The picture collage is of the parents of this hybrid.
For more information on growing Cymbidiums please check the Resource Page of our website.