---
Christmas Break
We wish all our customers and friends a Merry Christmas and a Happy New Year. May the summer be mild and spiking prolific.
In the interests of not having any plants trapped in boxes over the Christmas break, any orders received after the 3rd of December 2023 will be held and not shipped until Monday 8th of January 2024.
---
Selected plants available now.
---
Pre-order of Greg Bryant's 23 series flasks
---
Looking for Orchid growing tips?
Have a look at our Resource Page. This page contains information developed by Barrita Orchids. It is built around our observations of our plants over a long period, since 1963! This is to assist customers, both new and old with growing orchids and share in the joy of this pursuit.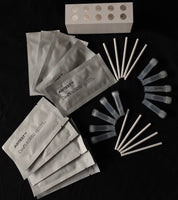 ---
Our range of almost flowering size of Cattleyas in 100mm pots