---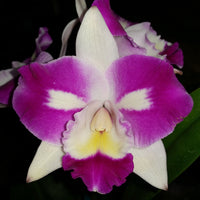 Clone Cattleya plant in a 100mm pot.
White/Pale Pink and bold Purple splashed flowers.  Open lip with the same Purple on the lip tip.  The well-displayed cluster of flowers held above the leaves.  Early to mature, flowers in a small pot during spring and Summer.
This clone is from Colours of Eden Nursery in Queensland. I have been very impressed with the growth rate of the plants we have from them
The photo is of the original plant flowering at Colours of Eden Nursery.