---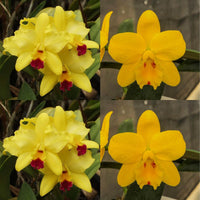 Hybrid seedling plant in a 100mm pot.
Near flowering size.
Slc. Lucky Chance
The offspring of Tokyo Magic (Lc. Irene Finney x L. briegeri) tend to have well-shaped flowers on sturdy stems.  Beaufort (Soph. coccinea x C. luteola) has been a highly successful parent for breeding mini and compact-sized Cattleyas. This cross is almost a mini-catt, with plants maturing at 7" tall; making Lucky Chance a bit too big to fit into this category thus making them large mini-catts.  The attractive well-shaped yellow flowers have bright red lips and are held just above the foliage. This cross has proven itself as easy to grow and they will start to flower in 3" pots and reach maturity in 4" pots!
Imported Seedling from Sunset Valley Orchids, USA. The picture shows the parents of this cross. The above description details the expectation of this hybrid.
For information on growing Cattleyas check out our growing page at https://barritaorchids.com/pages/growing-cattleyas