---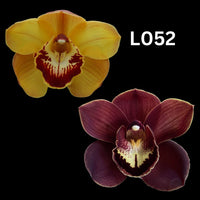 This flask was produced at Barrita Orchids. We plant 25 seedlings per flask. This does not guarantee 25 plants, as some may not develop after planting.
'Bronge' is a browny orange coloured flower. Interpreting this as a yellow flower with a brown overlay leads us to match it with 'Golden Fire'. The result will be intensely brushed yellows on very productive plants. 'Bronge' has a very high flower count. A very bold result is anticipated here.
The picture collage shows the parents of this cross. The following description details the expectation of this hybrid. Cross by Scott Barrie, Barrita Orchids.
For information on deflasking check out our resource page at https://barritaorchids.com/pages/growers-resource-page