---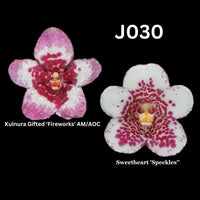 Hybrid seedling in a 50mm pot.
We have found that Kulnura Gifted 'Fireworks' regularly produces offspring that bloom with multiple upright spikes. Its flowers are truly eye-catching and amongst the most requested plants we have. By combing it with, arguably our most influential parent, Sweetheart 'Speckles' we can expect large, full-formed starburst patterned flowers on upright spikes. These will have exceptional colouring. Highly recommended
The picture shows the parents of this cross. The above description details the expectations of this hybrid. 
For information on growing Sarcochilus check out our growing page at https://barritaorchids.com/pages/growers-resource-page