---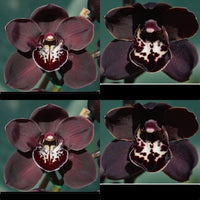 This flask was produced at Barrita Orchids. We plant 25 seedlings per flask. This does not guarantee 25 plants, as some may not develop after planting.

Description by Greg Bryant
Pepper Blaze "Wraith' x  (Smiling Cleo x Street Tango) "Darkness" – Extremely dark browns and reds. Intermediate, small standard, and standard size. Mid-season.