---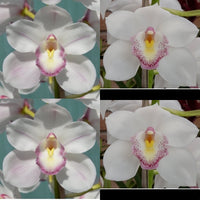 This flask was produced at Barrita Orchids. We plant 25 seedlings per flask. This does not guarantee 25 plants, as some may not develop after planting.

Description by Greg Bryant
(Kimberley Splash x True Creator) "Smudge" x Winter Enigma "Polaris" – Expect large flat whites on long stems with blush lips. Mid to late season.