---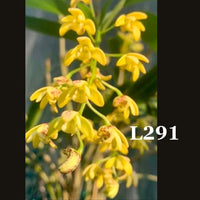 Species seedling in a 50mm pot.
By Nicholas Watts.
This is a selfing of the Australian native species. Dendrobium gracilicaule 'Mangrove Gold'. Originally from Mangrove Mountain dam on the NSW Central Coast. This form has strong gold colouring and dark red blotching on the back of flowers. Expect yellow-gold flowers on 6-12cm long inflorescence 5-30 flowers. 
The picture shows the parents of this cross. The above description details the expectation of this hybrid. 
For information on growing information check out our growing page at https://barritaorchids.com/pages/growers-resource-page