---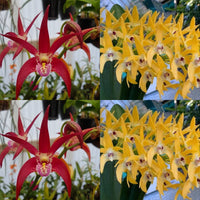 Hybrid seedling in a 50mm pot.
Hybrid by Josh Bridge.
Hoping for showbench-shaped, high-coloured colds. Vung's flowers can get to over 90mm and are brick red. Cross with Cosmic gold to increase the count and these will be interesting. Colours to range from yellows to hopeful reds with the flower count from 15-40 per spike.
The picture shows the parents of this cross. The above description details the expectation of this hybrid. 
For information on growing information check out our growing page at https://barritaorchids.com/pages/growers-resource-page