---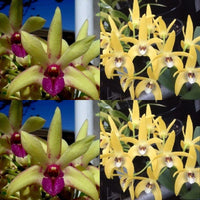 Hybrid seedling in a 50mm pot.
Hybrid by Josh Bridge.
Another cross to be excited about. The Brimbank Gold for a first-flowered seedling has incredible potential. Flowers around 70mm with the beautiful side lobe colour from Sandy. Will definitely be awarded in the near future. Crossed onto the always faithful Mem. Expect Large creamy yellows with lips ranging from violet to white. I believe this will be a high percentage cross and well worth the wait.
The picture shows the parents of this cross. The above description details the expectation of this hybrid. 
For information on growing information check out our growing page at https://barritaorchids.com/pages/growers-resource-page