---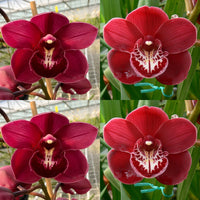 Hybrid by Scott Barrie, Barrita Orchids. This plant is a single growth (approximately 12 months old) in a 50mm pot.
Description of the expectation for this hybrid. 
Kulnura Ruby 'Red Velvet' remains one of my all-time favourites. Large flowers of full round shape in clean intense red colour. It is one of our most productive cut flower cultivars. 'Red Velvet' is the perfect match for Regal Flames 'Queen of Hearts'. Without a doubt the star of the Australian Cymbidium scene at the moment. Its smooth velvety red colouring is set off by the full and balanced deep red lip. It has a great flower count of up to 20 on a spike. Expect full flowers in deep velvety red on strong upright stems from vigorous growing plants. Highly recommended.
The picture collage is of the parents of this hybrid.
For more information on growing Cymbidiums please check the Resource Page of our website.