---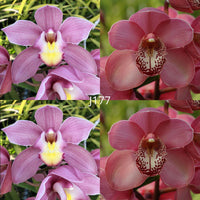 Hybrid by Scott Barrie, Barrita Orchids. This plant is a single growth (approximately 12 months old) in a 50mm pot.
Description of the expectation for this hybrid. 
This is a triploid(3N) hybrid. This means that the seedling should be infertile for breeding. This type of cross has traditionally had high commercial value as triploids are fast growers and are very productive plants. These will be pale pinks with yellow-centred lips. Expect a good flower count on strong upright spikes

.
The picture collage is of the parents of this hybrid.
For more information on growing Cymbidiums please check the Resource Page of our website.