---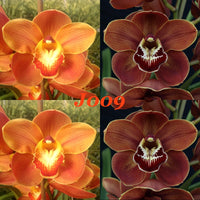 Hybrid by Scott Barrie, Barrita Orchids. This plant is a single growth (approximately 12 months old) in a 50mm pot.
Description of the expectation for this hybrid. 
Two of my favourite Autumn tones flowers. 'Golden orange' Shows the red overlaying yellow that gives such a wonderful orange appearance. 'Orange Flame' has the intense brown overlay we see so often from its grandparent, Cinnamonwall. Expect exceptional, full-shaped orange and brown flowers in the cold of winter

.
The picture collage is of the parents of this hybrid.
For more information on growing Cymbidiums please check the Resource Page of our website.