---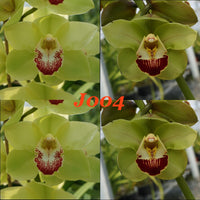 Hybrid by Scott Barrie, Barrita Orchids. This plant is a single growth (approximately 12 months old) in a 50mm pot.
Description of the expectation for this hybrid. 
'Chief' is one of our most impressive greens. It carried 17 flowers on its first flowering and multi-spikes. Best of all it is a non-staining green. 'Mill green' is a full-formed flower with a high flower count and nice upright foliage. Expect winter flowering, dark greens with red lips and high flower counts.
The picture collage is of the parents of this hybrid.
For more information on growing Cymbidiums please check the Resource Page of our website.