---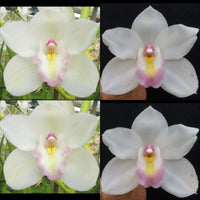 Hybrid by Greg Bryant, Bryants Orchids. This plant is a single growth (approximately 12 months old) in a 50mm pot.
Description of the expectation for this hybrid written by the hybridiser. 
Expect beautiful pink blush lips. Late season blooming with tall stems. Both have produced superior progeny, "Freshen" especially

.
The picture collage is of the parents of this hybrid.
For more information on growing Cymbidiums please check the Resource Page of our website.