---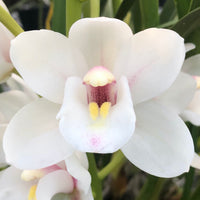 The clone material was sourced from a plant raised from seed here at Barrita Orchids. This flask was produced at Barrita Orchids. We plant 25 plants per flask. This does not guarantee 25 plants, as some may not develop after planting.
This super cute, white miniate Cymbidium is from our cross of Cym. Sarah Lin x Cym. Elegant Elf. The plant is fine-leafed and a compact grower. It flowers in mid-Winter for us.
The picture shows the flower expected.
For information on deflasking check out our resource page.