---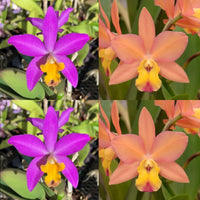 Hybrid seedling plant in a 50mm tube.
One of my favourite colour combinations is pink with yellow lips. We have successful y bread many like this in the compact plant habit, this is our first venture into breeding mini-Catt with this colour combo. Tiny Treasure (C. Porcia x L. lucasiana) is a compact plant with a rupicolous Laelia heritage that produces 5-6 pink flowers with yellow lips twice a year.
These will be 6" tall plants with sturdy upright stems of bright pink flowers and contrasting yellow lips.
Imported Seedling from Sunset Valley Orchids, USA. The picture shows the parents of this cross. The above description details the expectation of this hybrid.
For information on growing Cattleyas check out our growing page at http://barritaorchids.com/pages/growers-resource-page