---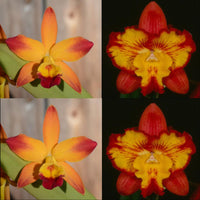 Hybrid seedling plant in a 50mm tube.
Fire Gem (Lc. Trick or Treat x Lc. Aussie Sunset) has such impressive colour! The photo is worth a thousand words. Its 5 to 6 flowers are well supported 6" above the foliage. Pot. Angel's Fantasy (Slc. Fire Fantasy x Sc. Bright Angel) is just spectacular, the FCC/AOS awarded to 'Solar Flare' says a lot about flower quality. It is also a good grower and flowers twice a year. It has proven itself over and over to be an excellent parent. This cross is all about flower count and exotic flares in yellow, orange, and red. I can hardly wait to see them bloom!

.
Imported Seedling from Sunset Valley Orchids, USA. Picture shows the parents of this cross. The above description details the expectation of this hybrid.
For information on growing Cattleyas check out our growing page at http://barritaorchids.com/pages/growers-resource-page