---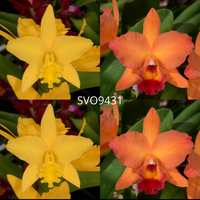 Hybrid seedling plant in a 100mm pot.
Love-Love (Pot. Love Passion x Blc. Love Sound) has bright golden-yellow flowers, with a touch of red on the tip of the lips, the well-presented flowers are done so on strong stems. Telling Lies (Pot. Rubescence

x Pot. Love Passion) produces beautiful orange flowers suffused red and covered with a sparkling diamond dust texture. The flowers have a good shape and are held on strong inflorescences the robust plants are compact, maturing at 10" tall.

 

Capitalizing on the influence of Love Passion, these will be good growers with strong upright growths producing upright stems of 5-6 flowers in colours of golden orange with a suffusion of red. 
Imported Seedling from Sunset Valley Orchids, USA. Picture shows the parents of this cross, in this case we didn't have a picture of Pot. Love-Love 'SVO Superior' so we had to improvise. The above description details the expectation of this hybrid.
For information on growing Cattleyas check out our growing page at http://barritaorchids.com/pages/growers-resource-page