---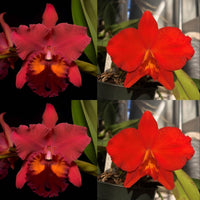 Hybrid seedling plant in a 50mm tube.
Impressive parents behind the breeding of Carolina Splendor (Pot. Waikiki Splendor x Blc. Oconee), this will assure offspring having wide petals and a dark burgundy lip colour. Combined with the fine shape and colour of Seagull's Apricot (Slc. California Apricot x Soph. coccinea) the result will be will wide petals, flattened flower shape, intensified colour, and a reduced plants size
.
Imported Seedling from Sunset Valley Orchids, USA. The picture shows the parents of this cross. The above description details the expectation of this hybrid.
For information on growing Cattleyas check out our growing page at http://barritaorchids.com/pages/growers-resource-page