---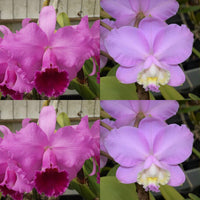 Hybrid seedling plant in a 50mm tube.
A few years back I was at an orchid show in San Jose, Costa Rica and saw Lc. Beaumesnil 'Juan Jose' FCC/AOS in all its glory, is very impressive!  I looked up the parents and realized I needed to re-make the cross as I have both parents, and here it is.
Imported Seedling from Sunset Valley Orchids, USA. Picture shows the parent of this cross. The above description details the expectation of this hybrid.
For information on growing Cattleyas check out our growing page at http://barritaorchids.com/pages/growers-resource-page