---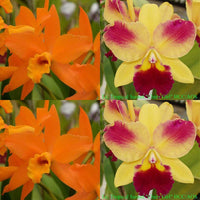 Hybrid seedling plant in a 50mm tube.
Blc. Tropical Upgrade
The breeding behind this successful hybrid is Tropical Sunset (C. Horace x Lc. Tropic Glow) and Guess What (Blc. Waikiki Gold x Lc. Trick or Treat).  Tropical Upgrade has reliably produced good-sized flowers in golden-orange with red lips, displayed nicely on strong stems. The progeny are exhibiting robust growth habit, handsome plant habit.


Imported Seedling from Sunset Valley Orchids, USA. Picture shows the parent of this cross. The above description details the expectation of this hybrid.
For information on growing Cattleyas check out our growing page at http://barritaorchids.com/pages/growers-resource-page