---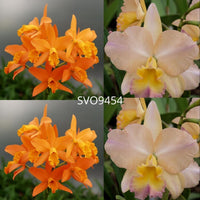 Hybrid seedling plant in a 50mm tube.
The vibrant orange-yellow flower color of Guess What (Blc. Waikiki Gold x Lc. Trick or Treat) and its cluster of 8-9 flowers make this grex one of my favorite March bloomers. The distinguished breeding heritage of William Farrell (Slc. Helen Veliz x Bc. Llano) is impressive. Its ancestry is a veritable "who's who" of cattleya breeding in the 1950's and 60's., 'Native Son' has impressive flowers in a beautiful soft peach with strong stems holding 5-6 well-arranged blooms above the foliage. Here, we hope the William Farrell will accomplish three things: increase flower size, improve flower count and add a strong stem; we expect it will match well with the color, flower count and inflorescence of Guess What to make an impressive display of salmon to peach-colored flowers. 
Imported Seedling from Sunset Valley Orchids, USA. Picture shows the parent of this cross. The above description details the expectation of this hybrid.
For information on growing Cattleyas check out our growing page at http://barritaorchids.com/pages/growers-resource-page