---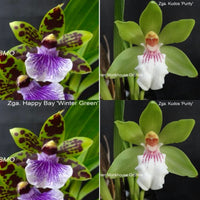 Hybrid seedling in a 50mm pot. Leaf length <10cm.
This is the first cross to incorporate Zga. Kudos, as you can see a crisp clean green with a striking white lip. My target is to remake WHITE Zygo's that bloom on compact to miniature plants. Plants to bloom in 100 – 130mm pots with multiple flower stems and lots of perfume

.
Hybrid by 

Stephen

 Monkhouse
The picture shows the parents of this cross. The above description details the expectation of this hybrid. 
For information on growing Zygopetalums check out our growing page at https://barritaorchids.com/pages/growers-resource-page