---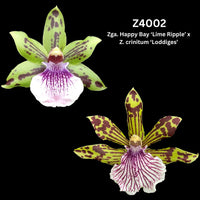 Hybrid seedling in a 100mm pot. Ready to flower.
If stripes are your flavour, this one will be a stunner. Strong upright spikes of solid green blooms with an even layer of red stripes. The lips will be white with red stripes too. Show quality and sweetly perfumed. This makes a Zygoneria
Hybrid by 

Stephen

 Monkhouse
Picture shows the parents of this cross. The above description details the expectation of this hybrid. 
For information on growing Zygopetalums check out our growing page at https://barritaorchids.com/pages/growers-resource-page