---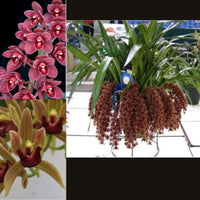 Imported hybrid by George Hatfield, USA. This plant is a single-growth (approximately 12 months old) in a 50mm pot.
Description of the expectation for this hybrid by George.
= Cym. Dorothy Stockstill 4n. This is a remake of the great hybrid that was originally made as a 3n. This should be a fantastic red ranging from brick red to burgundy. Lots of spikes, compact plants blooming late season.
The picture collage is of the parents of this hybrid.
For more information on growing Cymbidiums please check the Resource Page of our website.