---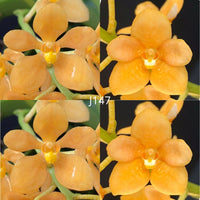 Hybrid seedling in a 50mm pot.
Yellow, yellow and more yellow! This cross is about super productivity and plants with improved vigour. In general, yellow Sarcs are not the best-growing plants. We have been selecting for vigour and these two are outstanding. Expect a profusion of spikes, dripping with golden yellow flowers.
The picture shows the parents of this cross. The above description details the expectation of this hybrid. 
For information on growing Sarcochilus check out our growing page at https://barritaorchids.com/pages/growers-resource-page