---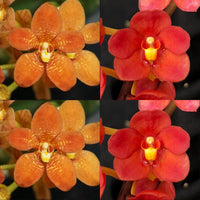 Hybrid seedling in a 50mm pot.
This is a cross that I can't wait to see! I'm expecting these to be intense orange flowers from compact plants. Given that Kulnura Kaleidoscope is a grandparent on both sides, we could possibly see some yellow. Expect very floriferous plants with spike presentation likely to be arched.
The picture shows the parents of this cross. The above description details the expectation of this hybrid. 
For information on growing Sarcochilus check out our growing page at https://barritaorchids.com/pages/growers-resource-page