---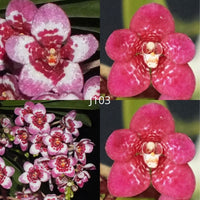 Hybrid seedling in a 50mm pot.
This cross brings the best of our starburst patterning into the early flowering plants. We have found that Kulnura Gifted 'Fireworks' regularly produces offspring that bloom with multiple upright spikes flowering in the early part of the season. By combining it with Kulnura Fireheart 'Compact mottle' we are going to see full-shaped flowers in a wide range of starburst patterning from compact plants.
The picture shows the parents of this cross. The above description details the expectation of this hybrid. 
For information on growing Sarcochilus check out our growing page at https://barritaorchids.com/pages/growers-resource-page