---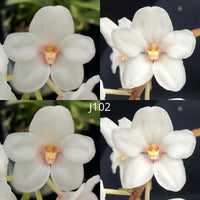 Hybrid seedling in a 50mm pot.
These two Kulnura Snowflakes are very nice flowers. They are large, flat, full shaped and display on long well-spaced stems. While the plants are young the stems will be upright. As the plant matures the stems will carry higher counts of larger flowers, giving the arching display. This cross builds on our program for developing pure white Sarcs. Very nice!
The picture shows the parents of this cross. The above description details the expectation of this hybrid. 
For information on growing Sarcochilus check out our growing page at https://barritaorchids.com/pages/growers-resource-page