---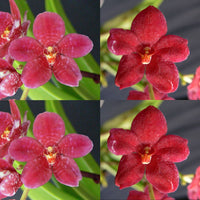 Hybrid seedling in a 50mm pot.
Have you ever seen Kulnura Fireball? Well, Kulnura Intensity 'Mottle Base' is its pod parent. It also imparts wonderful vigour to its progeny. This combination with Kulnura Dazzel 'Deep Velvet' promises to give us exceptional bright reds from upright spikes.
The picture shows the parents of this cross. The above description details the expectation of this hybrid. 
For information on growing Sarcochilus check out our growing page at https://barritaorchids.com/pages/growers-resource-page