---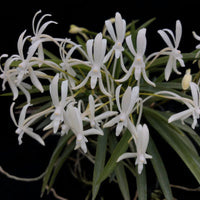 Hybrid by Scott Barrie. These are small plants in a 50mm pot.
'Snow White' is from our selfing cross of Neo. falcata 'Bart's Giant'. It was the first of the cross to flower and exhibits a fantastic growth rate and desire to flower. These seedlings will be great growing plants that will flower from small, fine-leafed plants. Flowers will be pure white and bloom in summer.
The picture is of the parent plant used in this cross.
For information
on
 growing Vandas, check out the
resource page
of our website.