---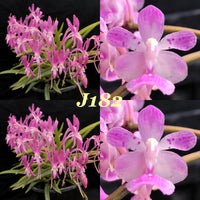 Hybrid by Scott Barrie. These are small plants in a 50mm pot.
This is a very cool cross. It brings together Neofinetia falcata and Ascocentum ampullaceum (through Ascofinetia Kaori) and Aerides rosea. There have only been two of this combination, Aerasconetia, registered! I expect bunches of pink flowers with prominent spurs. Plants will be on the small side with strap leaves.

Everyone should have one of these. Very limited number of plants from this cross

. Can't wait for these to flower!
The picture collage is of the parents used in this cross.
For information
on
 growing Vandas, check out the
resource page
of our website.