---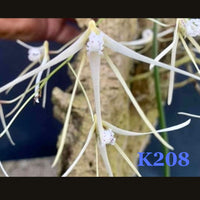 Species seedling in a 50mm pot.
By Nicholas Watts.
This selfing is of a super large form of the Aussie classic bridal veil orchid. This Docrillia species has a graceful thin, hanging growth habit. Flower borne in clusters of up to 12 blooms. 
The picture shows the parents of this cross. The above description details the expectation of this hybrid. 
For information on growing information check out our growing page at https://barritaorchids.com/pages/growers-resource-page