---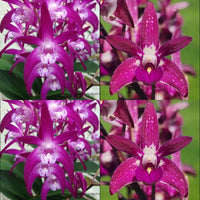 Hybrid seedling in a 50mm pot.
Hybrid by Josh Bridge.
SUPER, SUPER coloured cross. This is very exciting for anyone that wants vigorous, floriferous plants with bolt-upright spikes. The flower count will be between 10-15 per spike but with absolutely incredible colour!
The picture shows the parents of this cross. The above description details the expectation of this hybrid. 
For information on growing information check out our growing page at https://barritaorchids.com/pages/growers-resource-page