---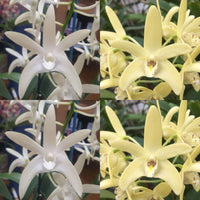 Hybrid seedling in a 50mm pot.
Hybrid by Josh Bridge.
Super show bench cross. Danielle is already an extremely well-balanced flowers on upright spikes. Add to it the super-size and thickness of Moon Yellow, there could be some enormous blooms from this cross. Expect 20-30 flowers per spike from off-whites to creams.
The picture shows the parents of this cross. The above description details the expectation of this hybrid. 
For information on growing information check out our growing page at https://barritaorchids.com/pages/growers-resource-page