---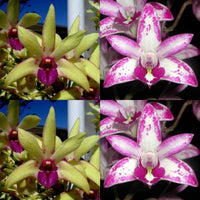 Hybrid seedling in a 50mm pot.
Hybrid by Josh Bridge.
Should produce beautiful short stumpy canes with lots of colour and upright spikes. Memoria Alicia appears to be allowing colour through so with an electrical purple lip and colour from Flinders, this should be great, Count between 10-15 per spike.
The picture shows the parents of this cross. The above description details the expectation of this hybrid. 
For information on growing information check out our growing page at https://barritaorchids.com/pages/growers-resource-page