---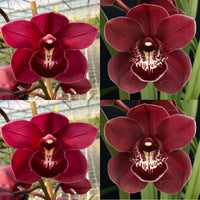 Hybrid by Scott Barrie, Barrita Orchids. This plant is a single growth (approximately 12 months old) in a 50mm pot.
Description of the expectation for this hybrid. 
Regal Flames 'Queen of Hearts' is without a doubt the star of the Australian Cymbidium scene at the moment. Its smooth velvety red colouring is set off by the full and balanced deep red lip. It has a great flower count of up to 20 on a spike. 'Nicole' is one of our standout clones. Reliably producing two tall spikes per bulb from small plants. The seedlings from this cross will be outstanding flowers, full-shaped dark red flowers with deep red lips. Given the ancestry, there will also be some pinks as well. Highly recommended

.
The picture collage is of the parents of this hybrid.
For more information on growing Cymbidiums please check the Resource Page of our website.