---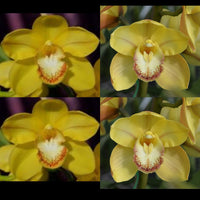 Hybrid by Greg Bryant, Bryants Orchids. This plant is a single growth (approximately 12 months old) in a 50mm pot.
Description of the expectation for this hybrid written by the hybridiser. 
The flowering time for this hybrid will be early to mid-season. Large flowers of yellows and golds. Both parents are alba carriers so expect a small percentage of albas

.
The picture collage is of the parents of this hybrid.
For more information on growing Cymbidiums please check the Resource Page of our website.