---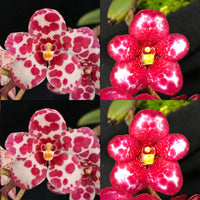 Hybrid seedling in a 50mm pot.
This is the first season we have offered a hybrid from the very exciting harlequin spotted Sarcochilus. This will be an interesting cross as we see how this new style of spotted flowers expresses itself. Expect lots of spotted flat flowers. There is the chance of patterning as well as some red. Flowers will be carried on arching stems. Very cool result from this one.
The picture shows the parents of this cross. The above description details the expectation of this hybrid. 
For information on growing Sarcochilus check out our growing page at https://barritaorchids.com/pages/growers-resource-page