---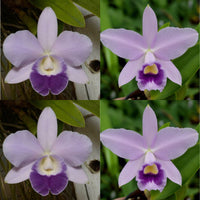 Hybrid seedling plant in a 50mm tube.
This Mini Purple (C. walkeriana x L. pumila) is a clonal mutation, it has exceptional shape and colour plus it blooms 2-3 times a year and has been proving itself a good breeder. Blue Design (Lc. Cornelia x Lc. Tahoe Rose) has large flowers with deep blue lips with yellow throats, the yellow really set off the blue lip colour.  We are expecting an improved shape from this breeding and good colour.  Large flowers, small plants, dark blue lips and yellow in the throat…plus we should have 2x a year blooming.
Imported Seedling from Sunset Valley Orchids, USA. The picture shows the parents of this cross. The above description details the expectation of this hybrid.
For information on growing Cattleyas check out our growing page at https://barritaorchids.com/pages/growing-cattleyas