---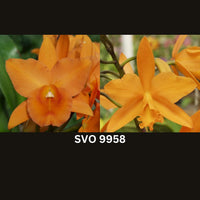 Hybrid seedling plant in a 50mm tube.
The full-shaped orange flowers of Carolina Orange D'or (Blc. Carolina Golden D'Or x Blc. Malworth D'Or) are magnificent, while the 6-8 blooms
 

per stem make this a spectacular show plant. I have admired this plant for years, and we have used it to make many orange and yellow hybrids. Combining this parent with

 

Love Passion (Lc. Trick or Treat x Slc. William Farrell) which produces 7-9 true orange flowers on a strong stem will give excellent orange flowers!  There will be 6-8 flowers well-held on strong stems, the plants will be robust and hardy growers. Who doesn't love huge heads of orange flowers?

 
Imported Seedling from Sunset Valley Orchids, USA. The picture shows the parents of this cross. The above description details the expectation of this hybrid.
For information on growing Cattleyas check out our growing page at https://barritaorchids.com/pages/growing-cattleyas