---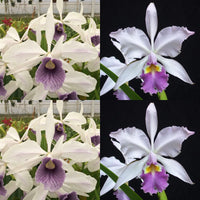 Hybrid seedling plant in a 50mm tube.
Lc. Callistoglossa  
Have you ever seen a coerulea Callistoglossa…I did one time, and it blew me away! These have huge potential and are not to be missed.  By using the striata form of purpurata we might just see this trait in the offspring, making them even cooler!
Imported Seedling from Sunset Valley Orchids, USA. The picture shows the parents of this cross. The above description details the expectation of this hybrid.
For information on growing Cattleyas check out our growing page at https://barritaorchids.com/pages/growing-cattleyas