---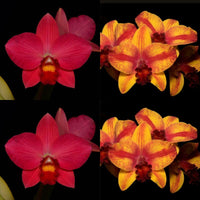 Hybrid seedling plant in a 50mm tube.
Pot. Princess Takamado
Virginia Dickey (Slc. Pink Doll x Sl. Pole-Star) is a darling mini-Catt. It has so many nice qualities like it flowers twice a year, does so in a 3" pot, has sturdy stems, blooms with 3 bright-red flowers, and has excellent shape. The parents of Barefoot Mailman are (L. briegeri x Slc. Madge Fordyce) Its 4-5 flowers have excellent shape and colour, and they are well held on a sturdy stem 8-10" above the foliage. For this hybrid, the objective is to produce small plants with good stems holding high 3-4 flowers.  The colours will range from orange to red with some exhibiting splashes in darker red. A cool new direction in mini cat breeding
Imported Seedling from Sunset Valley Orchids, USA. Picture shows the parent of this cross. The above description was written by Fred Clarke and details the expectation of this hybrid.
For information on growing Cattleyas check out our growing page at http://barritaorchids.com/pages/growers-resource-page