---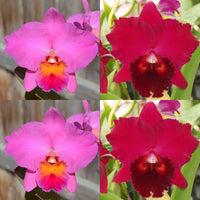 Hybrid seedling plant in a 50mm tube.
Durban Rose (Lc. Jose Dias Castro x Slc. Circle of Life) has attractive uniform pink-lavender flowers with exceptionally wide and flat petals, complemented by a nicely shaped lip.  Oconee Circle (Slc. Circle of Life x Blc. Oconee) is an amazing flower, far superior to its parents with surprisingly nice colour, size and shape, the photo is very telling of its quality.  When you study the ancestors in this cross, you see Circle of Life is a parent on both sides, this doubling up will assure very wide full petals, large ruffled full lips and a flower colour of dark crimson red, all from a compact plant. This cross is expected to be spectacular.
Imported Seedling from Sunset Valley Orchids, USA. Picture shows the parent of this cross. The above description details the expectation of this hybrid.
For information on growing Cattleyas check out our growing page at http://barritaorchids.com/pages/growers-resource-page