---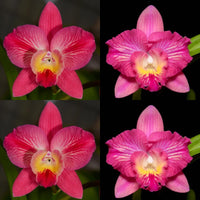 Hybrid seedling plant in a 50mm tube. 
Cosmic Angel (Slc. Cosmic Delite x Slc. Angel's Fantasy) has great flowers that are flared in a dark rose/pink. The plant is just 5" tall! Pot. Mem. Cristina Montero (Pot. Hisako Jewel x Slc. Cosmic Delite) are beautifully shaped flowers with bold flaring. They are robust growing mini plants. The base flower colour will vary a bit from red to a pink rose and will express the yellow veined flaring on the petals. The progeny will flower twice a year, blooming in 3" pots. 
Imported Seedling from Sunset Valley Orchids, USA. The picture shows the parents of this cross. The above description details the expectation of this hybrid.
For information on growing Cattleyas check out our growing page at http://barritaorchids.com/pages/growers-resource-page