---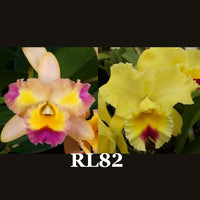 Hybrid seedling plant in a 50mm pot.
Quality medium size yellow blooms of all shades. There should be a percentage of Red flaring in the flowers. Easily up to 4 flowers per spike on mature plants & these plants should grow very easily and quickly.
Seedling made by Mr Roy Lee. The picture shows the parents of this cross. The above description was written by Roy and details the expectation of this hybrid.
For information on growing Cattleyas check out our growing page at http://barritaorchids.com/pages/growers-resource-page