---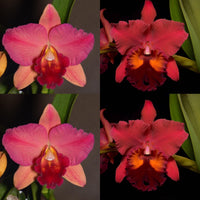 Hybrid seedling plant in a 100mm pot.
Rubescent Magic (Tokyo Magic x Pot. Rubescence) blooms with good stems of 4-5 flowers from influenced by the Tokyo Magic parent and good shape with dark lip colouration from Rubescence from a compact plant. Carolina Splendor (Pot. Waikiki Splendor x Blc. Oconee) has large wine-red flowers, full ruffled dark burgundy lip, and superb shape and form.  These will bloom in rich reds to deep, dark oxblood red tones with 4 to 7 flowers held above the foliage.  We expect these to be spectacular flowers, the plant size will be maxing out in the compact category, standing in at 12" tall and being robust plants growing.  This is a modern Standard Cattleya in a compact plant habit.
Imported Seedling from Sunset Valley Orchids, USA. Picture shows the parents of this cross. The above description details the expectation of this hybrid.
For information on growing Cattleyas check out our growing page at http://barritaorchids.com/pages/growers-resource-page