---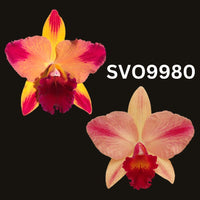 Hybrid seedling plant in a 50mm tube. 
The grex Rubescent Magic (Tokyo Magic x Pot. Rubescence) has been superb. All have good stems with 4-5 flowers from the Tokyo Magic parent and good shape with dark lip colouration from Rubescence.  Martha Clarke (Blc. Love Sound x Slc. Circle of Life) is such a good grex that I named it after my wife! 'Amazing' is one of the best, with excellent shape and colour.  These two parents give this cross outstanding potential. This hybrid is designed for richly coloured flowers in mostly red, though some will have sunset shades favouring red. Sturdy stems will carry 4-6 well-shaped blooms just above the foliage. I have been happy with this style of breeding; these will be beautiful!. 
Imported Seedling from Sunset Valley Orchids, USA. The picture shows the parents of this cross. The above description details the expectation of this hybrid.
For information on growing Cattleyas check out our growing page at http://barritaorchids.com/pages/growers-resource-page